Alfamino Covered by Insurance
Alfamino hypoallergenic amino acid-based formulas is a powder formula developed to:
Minimize the chance of further allergic reactions in babies with cow's milk allergies
Meet nutritional requirements with managing EoE
Provide nutritional support to infants and children who need an amino acid based formula
Provide a formula with MCT that is efficiently absorbed and provides an energy source
Promote adequate growth in healthy infants
Meet AAP criteria for hypo allergenicity
Alfamino formula is a nutritionally complete hypoallergenic amino acid-based formula for infants age 0-12 months who have cow's milk protein allergies or other allergy disorders. Alfamino is a nutritionally complete formula that provides infants with the nutrients they need to grow and develop. The formula also has a unique fat blend containing medium chain triglycerides (MCT) which helps facilitate fat absorption.
For babies who are suffering from milk allergies, Alfamino is easy to digest and is lactose and gluten free. It's a great formula choice for parents who are navigating the tricky landscape of having an allergenic child.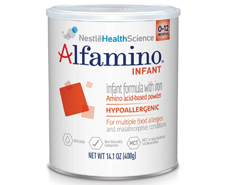 Nestle Alfamino
A hypoallergenic free amino acid powder for infants 0-12 months of age.
Nutritionally-complete, hypoallergenic, amino acid-based formula for infants 0-12 months
Clinically demonstrated to meet the AAP criteria for hypoallergenicity
Clinically demonstrated in healthy infants to promote adequate growth