Puramino
PurAmino is a hypoallergenic, iron-fortified, and amino acid-based formula for the dietary management of infants and toddlers with severe cow's milk protein and multiple food allergies. It is also suitable for conditions such as protein maldigestion, malabsorption/chronic diarrhea, short bowel syndrome and eosinophilic esophagitis.
PurAmino can be an infant's sole nutrition source through 6 months of age, and be a major supplemental nutrition source up to 2 years old.
PurAmino is a nutritionally complete formula for infants and toddlers 0-24 months with DHA and ARA, nutrients also found in breast milk that promote brain and eye development.
PurAmino is created by Enfamil, the maker of Nutramigen #1 recommended brand* for managing infants who are allergic to cow's milk protein.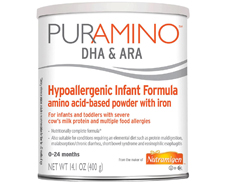 PurAmino DHA & ARA by Enfamil
Hypoallergenic amino acid-based formula.
100% of infants fed PurAmino had no allergic reactions/adverse events
Formulated with 33% MCT oil to help facilitate fat absorption
Nutrionally complete, lactose-free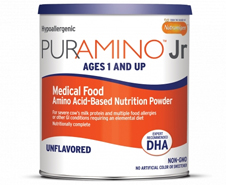 PurAmino Jr
PurAmino Jr is designed for toddlers and children with severe cow's milk allergy, multiple food allergies, or other gastrointestinal conditions.
The only amino acid-based junior product that has DHA
Hypoallergenic
Nutritionally complete for toddlers and children ages 1 and up