Enfamil NeuroPro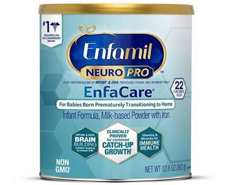 Enfamil EnfaCare NeuroPro
Milk-based, 22 Cal discharge formula for babies born prematurely or with low birth weight.
Typically used during the first year of life for infants from 1800 grams in weight
Milk Fat Globule Membrane (MFGM) and DHA to support brain development
20% of the fat blend from medium-chain triglycerides (MCT) oil
When new moms and dads bring home a premature baby, there are so many questions and hurdles they have to face. One that should not be a concern is the best formula for their baby. There is one clear choice which is Enfamil NeuroPro.
Enfamil NeuroPro is a brain-building nutrition that is inspired by breast milk that is best for newborns 0-3 months and infants 0-12 months.
Enfamil NeuroPro has MFGM & DHA
Enfamil prioritizes the health and well-being of babies above all else, that's why Enfamil NeuroPro now has MFGM – a brain-building nutrition that is specially formulated to have a revolutionary fat-protein blend of MFGM and DHA, which was previously only available in breast milk.
Additionally, there is emerging evidence from a recent clinical study that showed MFGM in formula supports cognitive development similar to breast milk.
DHA is a fatty acid found in breast milk as well in some foods like fish and eggs. DHA plays an important role in early brain and eye development and it is especially important to have it in formula for premature infants. That's why Enfamil NeuroPro includes the clinically proven amount of DHA in an expert-recommended range.
Why Enfamil NeuroPro is Special
The combination of MFGM and DHA has been clinically shown to improve developmental milestones for infants by the time they turn one. Additionally, Enfamil NeuroPro includes prebiotics which help with immune health.
According to the Enfamil NeuroPro website, they say: "A clinical study shows MFGM supplementation may be an important step toward narrowing the gap between formula-fed and breast-fed infants with respect to neurodevelopment." This statement is based on a study which compared a different formula with MFGM added as an ingredient to a similar formula without it.
Enfamil NeuroPro Research and Clinical Studies
Enfamil is backed by decades of breast milk research and multiple clinical studies. Over 1,300 mothers and their babies have participated in these studies from around the world including North America, South America, Europe, and Asia.
In the course of this research over 1,500 human milk proteins were mapped and evaluated.
At Insurance Covered Baby Formula, we are proud to carry the best formulas on the market, including Enfamil NeuroPro.